Home health aides are flexible caretakers who wear many hats. They're trained to adapt their approach to meet the needs and requests of the client and the client's family, as well as current and changing circumstances. From small tasks and short visits to intense support and live-in arrangements, let's explore what home health aides do, and the benefits that come with outsourcing quality in-home care.
What Is a Home Health Aide?
Home health aides are state-certified professionals who undergo extensive training to provide the best quality care. If your loved one is recovering from an injury, illness, or hospital stay and needs short-term personal care, a home health aide is a good solution. A home health aide ensures that the patient stays healthy as they recover and provides assistance in a variety of non-medical ways. A home health aide can be:
Companion
The most important aspect of being a home health aide is being a companion. Oftentimes, elderly and disabled populations are significantly lacking in regular and meaningful social interactions.
From personal caregiving, to discussing the weather, to sharing life events and stories, home health aides naturally become companions to clients over time. By consistently engaging and interacting with clients, aides develop a deeper sense of understanding and sincere companionship with them.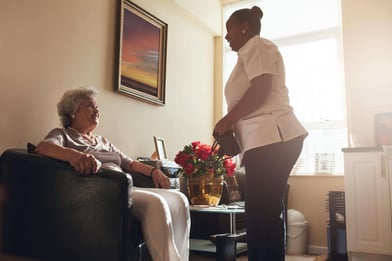 Driver & Errand Runner
Home health aides provide transportation services to their clients as needed. This can include trips to the grocery store, medical appointments, and beyond. The level of guidance depends on the needs of the client. Some clients may need help choosing what to buy, but don't need help paying for goods and services. Other clients may need help carrying goods, but don't need help choosing what to buy.
Aides also run errands for their clients, such as accompanying them to their appointments, picking up medication, or mailing a package. Errand duties may also change at times, and aides are highly skilled at adapting care tasks with client needs.
Cook & Cleaner
Whether clients need full meal planning and preparation as prescribed by a doctor, or help baking cookies on Sundays, home healthcare involves cooking for clients whenever and however they need it. Aides also provide cleaning services and are matched based on the client's requests, needs, and abilities. Sometimes, it's harder for clients to vacuum than dust, or to clean the refrigerator than scrub the bathtub. Home health aides are there to help as much as possible without interfering with a client's sense of self-sufficiency.
Personal Care Attendant
Home health aides are trained to help with dressing, grooming, and other personal care tasks, no matter how involved. Aides recognize that, when possible, getting dressed every day - from brushed hair to trimmed nails - is essential to the well-being of clients. They are able to quickly learn how clients want to look and dress. In addition, aides are trained to remind clients when to take medication.
Home Health Aide Benefits
There are many benefits of having a home health aide to care for your loved one. These benefits fall into three key areas that reach into the roots of well-being.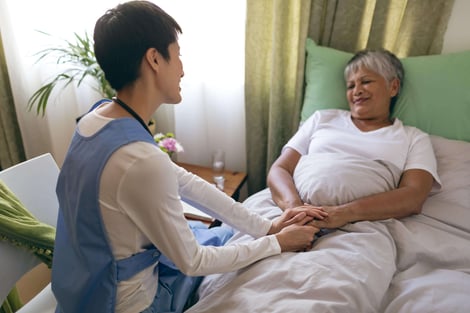 Stress Reduction
An enormous amount of stress often comes along when a loved one has health problems or disabilities that make complete daily functioning difficult. The stressors can come in many forms, such as time-management stress, emotional stress, and financial stress.
With full-time jobs and families to tend to, caring for another person on top of all that is bound to increase stress levels. When the time it takes to care for an elderly or disabled loved one becomes nearly impossible, home health aides step in to alleviate that stress. They also alleviate the emotional stress of constantly worrying about whether your loved one is okay. Because home health aides do what needs to be done, this allows you to focus on spending quality time with your loved one.
In addition, home healthcare is much more cost-efficient than long-term care facilities, because you only pay for the time and services needed.
Mental Health & Well-Being
As social interaction slows and the ability to maintain self-sufficiency declines, the most common reaction is feeling lonely. Elderly and disabled people often fall into deep depression, but studies have shown that home health aide care and companionship can lift people out of this depression.
Even the simplest and shortest of daily or weekly interactions from an aide can add a sense of normalcy to life. Memory loss is also common in elderly populations and studies have shown that consistent engagement and communication reduces memory loss.
From special meal plans to assisting with standing and walking, aides provide a variety of services to ensure the health of their clients. The overall function of a home healthcare aide is to help clients be well and live a healthy life.
Peace of Mind
After a home health aide is hired and services have been in place for a while, you'll likely feel a great sense of relief. You'll no longer need to worry about the time involved to care for a loved one or if their essential needs are being met. Over time, the relief is likely to turn into truly finding peace of mind about the situation.
If your loved one isn't eating enough, you'll know that the home healthcare aide is there to prepare meals and/or assist with feeding. If your loved one is incontinent, you'll know the aide is there to provide help getting up to go to the bathroom, and/or assist with care while in the bathroom. You won't have to worry whether your loved one has fallen down and can't reach the phone, or if they are cleaning, eating, or sleeping regularly.
Now more than ever, peace of mind is essential during COVID-19. Home healthcare is a much safer option than a densely populated care facility, w
here the risk of becoming infected is extremely high. Aides will also be there to run errands when it isn't safe for your loved one to go out, and they are well-trained to follow all health and safety precautions.
Conclusion
For many families, home health aides can be just the support they need to take care of their loved ones in a convenient, cost-effective manner while avoiding burnout.
At Carnegie Healthcare, our team of trained, skilled home health aides strive to provide personalized, effective care that improves your loved one's quality of life as well as yours. For more information about home healthcare, we're here to help. Contact Carnegie Healthcare today to explore your options.